Enhance Your Digital &
Physical Experience!
Popilight merges the digital and physical world and brings you a
unified experience! Connect with your friends, Share your experience
and co-create with our multi-device, multimedia synchronisation
technology powered by Global Heartbeat - get on Popilight!
-
No More Consuming Digital Content,
It's Time For Involving Into The Story
We have redefined the relationship between creator and audience.
Let your followers touch your music, hear your designs and see your vibrations.
With Popilight you can create, compose, share multisensory experiences.
Use your smart devices to their fullest potential and have them all in sync.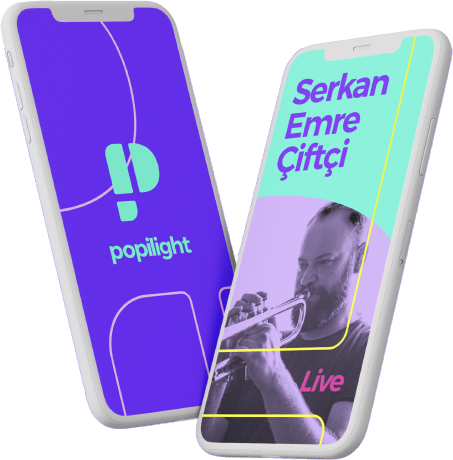 GLOBAL HEARTBEAT
Passive Synchronization
Global Heartbeat is a revolutionary synchronization technology. Every user is experiencing the exact same moment no matter where they are in the world.

Global Heartbeat technology also represents a position-based sequence information that enables all Popilight applications to be in the same beat/sequence at the same time. So whichever creative outlet is being broadcasted, it is broadcasted in real-time on every mobile device.
Utilizing Network Time Protocol and filtering algorithms which are constantly correcting millisecond level latencies, Popilight iOS and Android apps are effortlessly synchronized in the background. You only need to be in the same Popilight channel. There is no perceivable latency, there is only being in the same moment - living a unified experience.

Soon our GHB API for enabling Global Heartbeat to 3rd party developers will be available to more creative ideas. For more information get in touch with xyz@popilight.com
Porting Popilight to other platforms such as SmartTv, linux/arm based systems and Windows 10 IOT is also in our schedule.

So be ready for the revolution of creating and sharing incredible moments: Life will be full of them.